BECOME A VERDOOR DISTRIBUTOR
We are looking for business partners across Europe. You do not have to be an expert in the garage door technology. If your ambition is to distribute exclusive garage doors, if you wish to stand out in the market and sell a product like no other, feel invited to join the team of our distributors.
We are a brand unlike any other. We will be your loyal and reliable partner for years to come. No matter how big your company is, to us every customer is Great. It is important that you have Great plans: we want to work with you to make them come true. We value integrity and consistency in our daily work. If you are bold, ready to fight and are not afraid of competition, join the elite group of VERDOOR partners. We will secure your business. You will always be the exclusive partner of the VERDOOR brand in your region. You will be proud, as we are, of the quality of the garage doors that you deliver to your customers. Surprise your customers with fast and timely delivery. You will feel that we are your garage door factory.
GET IN TOUCH WITH US
E-mail or call us. Tell us what your company does and in which region it operates. Join us and we will support the growth of your business.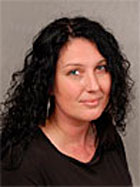 JOANNA ANINOWSKA
DIRECTOR
WE SPEAK THE FOLLOWING LANGUAGES: